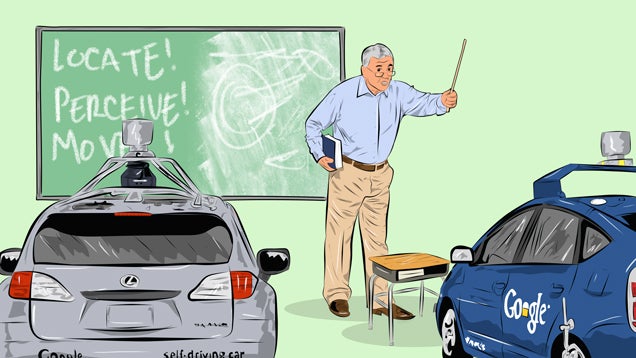 Dr Will Maddern of Oxford's Mobile Robotics Group explains to Gizmodo why GPS alone is not sufficient to guide the driverless car:
"I'm often asked, 'Why not just use GPS?'" Will Maddern quips. He's a researcher with the University of Oxford's Mobile Robotics Group, which has developed Robot Car. "This is actually a very sensible question: the GPS satellite constellation is a stunning engineering achievement."
The problem is that GPS has some major limitations. First, it doesn't work without a clear view of the sky—so navigating tunnels, indoor car parks or even forests is ruled out. More importantly, it has a resolution on the order of meters, which is certainty not enough to safely navigate a car through city streets, where mere centimeters can mean the difference between safety and a collision.
"We often use GPS to kick-start our localization algorithms," admits Maddern, "but we do not rely on it to tell us where in the road lane the car is." Instead, self-driving cars learn to identify their position on the road in completely different way.
Read the full article which describes how MRG's approach work here: